COMPLIMENTARY SHIPPING THROUGHOUT DÉCEMBRE
Porcelain crafted in Manifattura Ginori – Italy
Shop now to get your gifts in time for the Holidays: discover our Gift Selection
A SECRET TO DISCOVER
A SECRET TO DISCOVER
LCDCのフレグランスに新しい洗練されたエッセンスが加わりました。フローラルとウッディノートの〈ゴールドクラウン〉は、親密で魅惑的な雰囲気を演出します。
トップノート:スモーキーノート、ピンクペッパー、ジンジャーがスパイシーで魅惑的な香りで五感を目覚めさせる。
ハートノート:ローズ、イランイラン、チュベローズ、ナツメグがフローラルで引きつけるような魅力を加えます。
ベースノート:パチョリ、バニラ、ホワイトムスクが、アーシーで甘く持続性のあるニュアンスで香りを完成させます。
〈ゴールド クラウン〉の力強く濃厚なノートは、お部屋に洗練されたコントラストのハーモニーを与えます。LCDC Goldコレクション専用のディフューザーホルダーやキャンドルホルダーと共に使用することで、より洗練された雰囲気を演出することができます。L'Amazzone(アマゾネス)、Il Letterato(学者)、Il Seguace(仲間)の各アイテムは、裏面に手描きのシリアルナンバーが入った限定アイテムとなります。
LCDC fragrances are enriched with a new refined essence: The Gold Crown with floral and woody notes, for intimate and inebriating atmospheres.

TOP NOTES: smoky notes, pink pepper, ginger to awaken the senses with a spicy and intriguing aroma.
HEART NOTES: rose, Ylang-Ylang, tuberose, nutmeg that add a floral and engaging touch.
BASE NOTES: patchouli, vanilla, white musk complete the scent with an earthy, sweet and persistent nuance.

The vigorous and intense notes of The Gold Crown give the rooms a refined harmony of contrasts. Keep The Gold Crown candles and room diffusers with the court of Caterina De' Medici and the new numbered gold edition of LCDC. L'Amazzone (The Amazon), Il Letterato (The Scholar), and Il Seguace (The Companion) return to make the rooms shine in two colors, black and white, in which the finest porcelain enhances delicate brushstrokes in pure gold..
THE GOLD CROWN FRAGRANCE / フィルター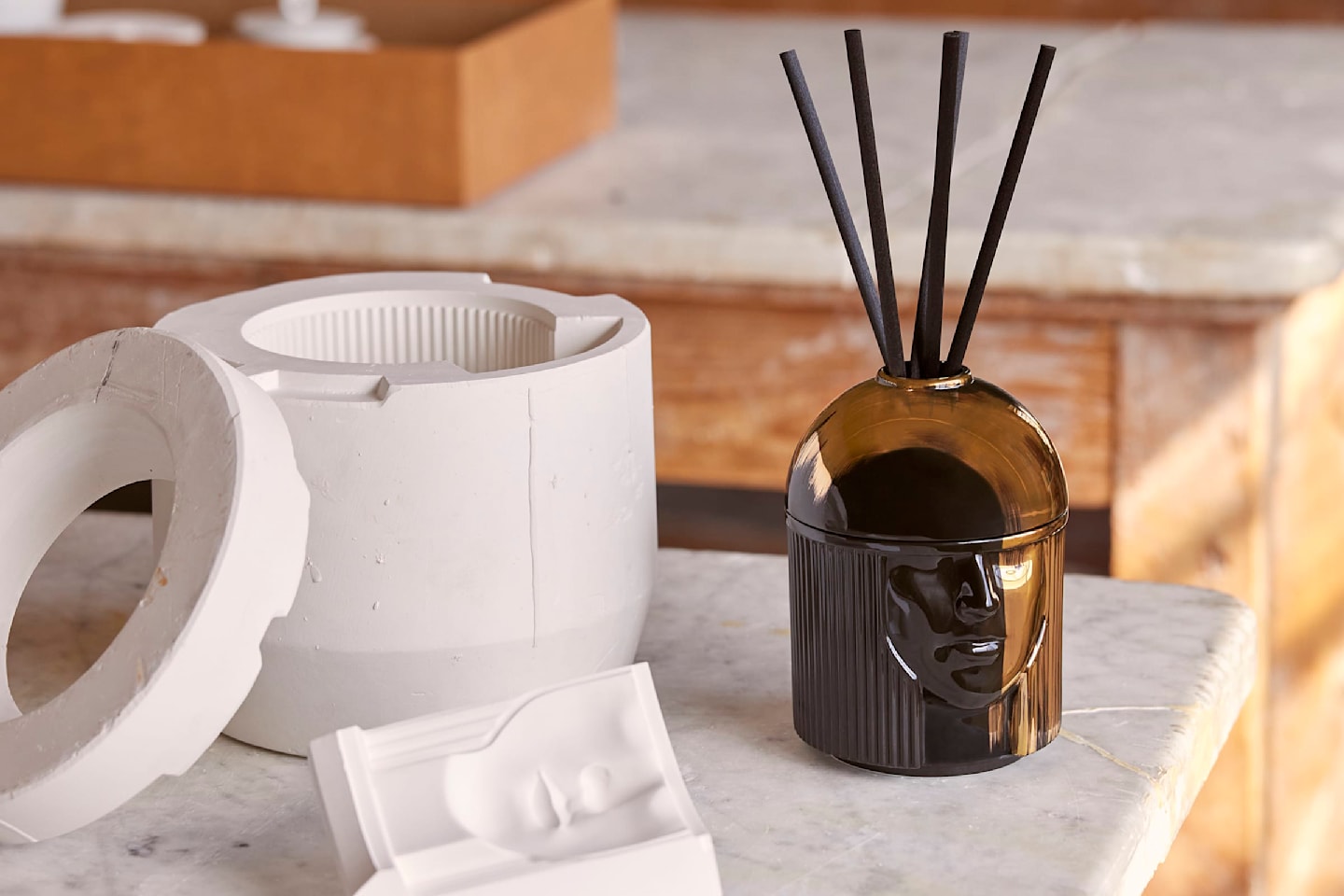 ENTIRE LCDC HOME FRAGRANCE COLLECTION
LCDC home fragrances have been created by Jean Niel, the eminent French perfume company founded in 1779 in Grasse. A symbolic sensory journey captured in seven distinct home fragrances, scents that connect Florence and Paris in pursuit of a modern Renaissance, both aesthetic and olfactive. Each essence is designed to be unique and timeless, with the power to evoke emotions, render sensations and waft throughout the space in a natural and lingering way. White Jealousy, The Gold Crown, Orange Renaissance, Black Stone, Purple Hill, Amber Lagoon and Musk Road fill the air in perfect harmony with the environment, and even more so with the person who chooses them, in a delicate, intimate and subtle way.