FREE SHIPPING OVER 300 USD
Reborn Project
Reborn project on display in Milan, from 7 june to 29 october 2022 - Nilufar gallery, at Via della Spiga 32, and Nilufar Depot, Viale Vincenzo Lancetti 34 – Milan.
Following the first chapter and its successful presentation in 2021 at the Galerie du Passage in Paris, Ginori 1735 joins forces with Nina Yashar, founder of the Nilufar Gallery, for the second appointment involving 4 artists and designers: Martino Gamper, an Italian designer; Flavie Audi, a French-Lebanese artist; Federica Perazzoli, a contemporary Swiss artist; and Andrea Zucchi,  an Italian figurative painter. 
The rebirth of objects that evoke emotions.
Martino Gamper
Born in Merano in 1971, Martino Gamper now lives and works in London where he set up his design studio in 2000. Starting as an apprentice carpenter and student at the Academy of Applied Arts and Fine Arts in Vienna and the Royal College of Art in London, Martino Gamper is involved in various projects ranging from exhibition design to interior design. His works and projects have been shown in various exhibitions and can be admired in museums and galleries all over the world.
Flavie Audi
Born in Paris in 1986, Flavie Audi lives and works in London. Deeply linked with the glass working, the artist shows the duality between the real and the virtual worlds, where human beings create cosmic fragments and new types of landscape formations. Flavie Audi's work has been exhibited in numerous galleries and institutions, such as Venus Over Manhattan, Corning Museum, Tristan Hoare, Soneva Fushi, Zaha Hadid gallery, David Gill, Stedelijk Museum Breda, Galerie Tanit, Karma International and Elisabetta Cipriani.
Andrea Zucchi
Born in 1964, Andrea Zucchi lives and works in Milan, his native city. He started to paint at the age of eighteen as a self-taught artist, and then went on to perfect his drawing skills with a three-year course in illustration held by the Istituto Europeo di Design in Milan. His pictorial work combines great classical art and the avant-garde movements of the 1900s. Over time, he has held solo exhibitions and participated in various awards such as the 'BP Portrait Award 1997' and collectives, including "Arte Italiana, 1968-2007. Pittura" staged at Palazzo Reale in Milan in 2007, the "Pop up italian show" at the Hubei Museum of Art of Wuhan in China in 2014, and "Origins of Civilization" at the Pavillion of Syrian Arab Republic during the Venice Biennale of 2015.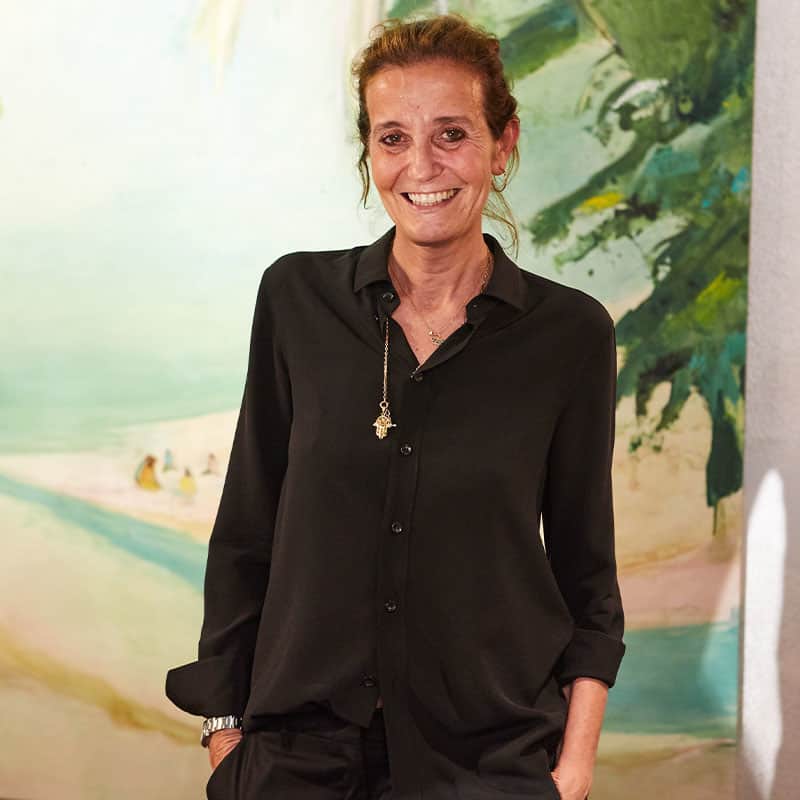 Federica Perazzoli
Born in Switzerland in 1966, Federica Perazzoli now lives and works in Milan. As a contemporary artist, Federica Perazzoli experiments with large-scale paintings and she uses textures and fabrics in her work to create room installations that transform the domestic space into artworks. Since 2000, Federica Perazzoli has been a founding member, together with Daniele Innamorato, of the KINGS art collective.