COMPLIMENTARY SHIPPING THROUGHOUT DECEMBER
Porcelain crafted in Manifattura Ginori – Italy
LA GAZELLE D'OR FRAGRANCE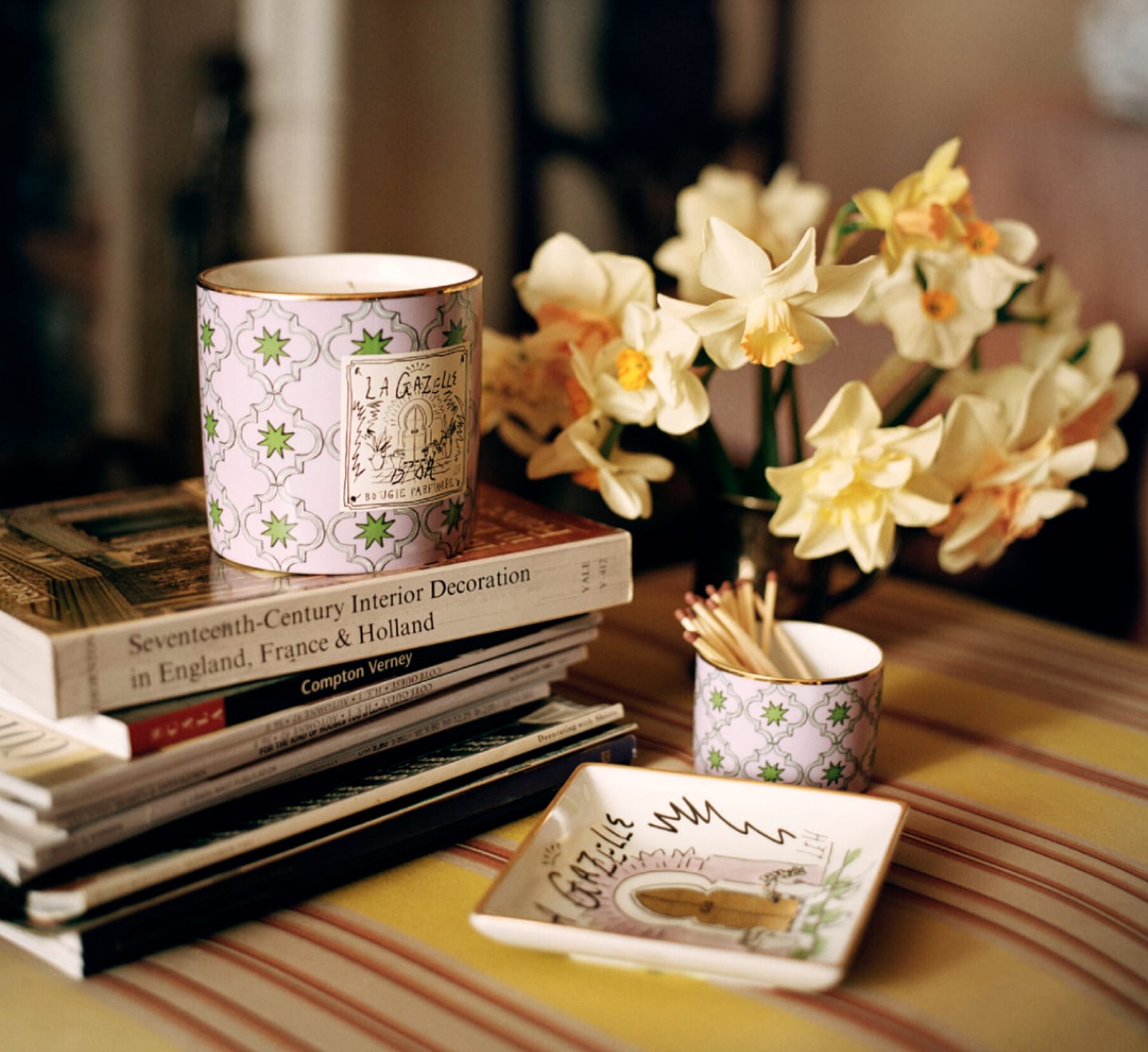 We lost him there, his early brilliance swallowed up in the medina's labyrinth, its delicious but guilty pleasures. Dappled shade in the medina: inky shadows, hallucinatory pinks and blues. A maze of alleys, arches, covered ways, dead ends, doorways, narrow stairs. Later we would see him at the Gazelle d'Or, sipping mint tea with dyed blue hands.
La Gazelle d'Or is one of five home fragrances from the Profumi Luchino collection designed by artist Luke Edward Hall. The floral and herbal notes are the result of olfactory memory play, which, in the creator's mind, evokes the romantic atmosphere of the mystical alleys of Marrakech. That is exactly where we want to take you as well, with the fragrance of two porcelain scented candles embellished with Luke's drawings. 
Scent family: FLORAL, HERBAL 
Top Note: MINT 
Heart Note: ROSE, GERANIUM, GREEN TEA 
Base Note: CEDAR WOOD, MUSK, WHITE OAK MOSS 
LA GAZELLE D'OR FRAGRANCE / FILTERS
DISCOVER OTHER PRODUCTS INSPIRED BY THE FRAGRANCE
La Gazelle d'Or incense burner
Wandering through the shaded gardens of La Gazelle d'Or, he happened upon a porcelain incense burner: an oval cameo bearing a relief that traces the serene gaze of a classic face.
There was the pervasive scent of mint and flowers in the medina. His gaze was rapt by the bright colors that every detail of those streets assumed in a fluctuating play of soft light. The motifs of the fabrics superimposed on the wooden planks, the fresh oranges stacked together with the other fruits in the baskets of a little stall, the delicious sweets arranged as a rich, freshly prepared banquet. A spice seller was coming out to greet him, laughing just after because that light breeze had, in the meantime, gently blown from the street into his shop. The air had become a mixture of perfumes which told stories in every step, whispered of adventures and led him through narrow alleyways. It was in one such alleyway that he first saw it nestled in a basket of dried fruit and took the small object in his hand.